T.F.B. Radio Crew
On Air Personalities
FREE BIRD has been in the music scene for over 30 years. After hosting many benefit events known as "A Soldier's Call Home" FREE BIRD decided to take his talent to the next level and join World Net Radio and take my shows to another level by supporting our American TROOPS deployed around the worl
FREE BIRD started in 2007 as a Sunday DJ, and from there The FREE BIRD Show has grown to where it is today. The FREE BIRD Show featured many different guest from Country to Southern Rock featuring
Charlie Daniel's - Lynyrd Skynyrd's Johnny Van Zant- Jeff Waldrop from MOONSHINER'S- Lee Greenwood - The Roy's - SwampdaWamp - Craig Morgan - Cody McCarver - Maggie Sajak - Guy Penrod - Richie McDonald - Jeff Foxworthy - Jake McVey - BJ Thomas - LifeForce - Tracy Lawrence - Lo Cash Cowboy's - Jimmy Vanzant - Moby In The Morning - Former WWE Super Star Mickey James - Taylor Made - and many more artists over the years.
FREE BIRD was also the Co- Host for the Television Show "CROSS COUNTRTY" and several other local cable television shows from 2005 to now.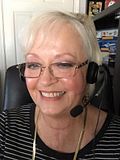 Pamela Folger - Former owner of Folger Entertainment has produced TV show over the years working with Artists to Football legends. Pamela Folger who is a huge Georgia Bulldawgs Fan joined The FREE BIRD Show Team back in 2009 and joins FREE BIRD on the show periodically. Pam brings an entire line of "HALARIOUSNESS" to the shows dialog. When Pamela Folger & FREE BIRD go ON AIR, People say it's one of the Funniest Radio Shows they have ever heard, from truth to comedy of all sorts.
Pamela Folger Started her career in television production in 2000 with Folger Entertainment. Pamela has had a viewership of more than 2 million viewers in the markets she was in. Folger Entertainment produced 7 TV shows per week with shows that included interviews with Jeff Foxworthy, Charlie Daniels, Dierks Bentley, Georgia Secretary of State Brian Kemp, Richard Petty Racing School, numerous shows with former UGA Coach and AD Vince Dooley and Coach Mark Richt. She's interviewed 3 time PGA Winner Kenny Knox, several trips to Nashville to the CRS, and even filmed at the famous Minnie Pearl Mansion and Wildhorse Saloon. Pamela has closed the TV production but continues to enjoy the entertainment business with long time friend and business associate Free Bird.
Timmy "VANZANT" Aldridge - Joined The FREE BIRD Show in 2012 and has become very close friends of the shows family ever since. Timmy is the cousin of the late great "Ronnie VanZant of Lynyrd Skynyrd & Donnie VanZant of 38 Special & now front man "Johnny VanZant" the world famous Southern Rock Band "LYNYRD SKYNYRD" Timmy is also the nephew of "Jimmy VanZant" and the son of "Jane VanZant". Profiling the looks, Timmy doesn't sing, Timmy however bring an entire lineup of it's own nature to the show with his wittiness and comical attitude. You can catch Timmy on The FREE BIRD Show periodically.